We're so excited to have Vanina from Mother Crafter here today to share her awesome shoe makeover...
Did you know that the original TOMS shoe are called "alpargatas" and are the characteristic footwear of "gauchos", the cowboys of Argentina? They are an Argentine trademark, and you can see them everywhere, worn by all kinds of people, from teenagers to the elderly, rich and poor . I love alpargatas. The other day I realized one of my beloved pairs is ripping on one side. I knew I had another pair in the closet. The problem is, they are camouflage print. I bought them a couple of years ago when I was back home, even knowing I was not going to wear them often because I do not like camo print. But they are really comfortable and it was that or black ones in my size (I already had them in black) so I bought them anyway. And of course, I barely used them, until yesterday, when I decided to paint stripes on them. So for this new tutorial, I will show you how I did it.
A pair of shoes, preferably canvas.

Metallic silver acrylic or fabric paint.

Black acrylic or fabric paint.

Brushes

Newspapers and drafting tape.
Start by stuffing the shoes with newspaper so they are firmer and easier to paint.
Cut strips of drafting tape and cover the shoes placing them at an angle at about 1/2 inch apart or the width of the tape. I chose to go all the way to the mid-sole too.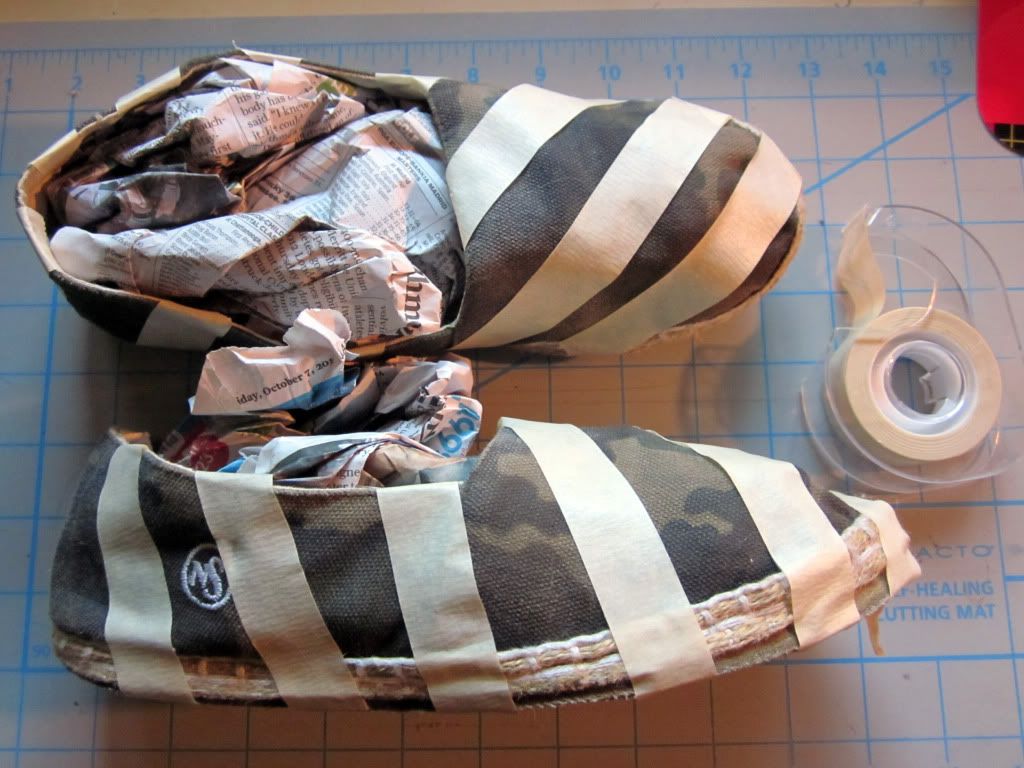 Paint the stripes with the metallic silver color, trying to be as even in the paint distribution as possible. (If you are using different colors than mine, paint the lightest color first. That way you can paint over with the darker if your stripes are not perfect or you have run-over paint.) You might need more than one coat if the original color of your shoe is dark.
Let them dry for a couple of hours outside.
Paint the rest of the stripes with black and let it dry once more completely. Check if you have any chunks of paint and if you do, try to remove them with an X-Acto knife. Put them on and take them for a stroll! :)